Celebrating Earth Day 2023 in San Francisco
Posted by Rebecca White on Wednesday, April 19, 2023 at 3:30:34 PM
By Rebecca White / April 19, 2023
Comment

Celebrating Earth Day in San Francisco: Earth Day Activities and Events
Celebrating Earth Day in San Francisco's Golden Gate Park
Earth Day is a global initiative to protect and preserve the planet we call home. First celebrated on April 22, 1970, it marked the beginning of modern environmental activism. Since then, San Francisco has hosted an annual Earth Day Festival in Golden Gate Park's County Fair Building to honor those who have worked tirelessly to make our world a better place.
The theme of Earth Day 2023 is "Restore Our Earth," and it's a call to action for all of us to join the Green Revolution. San Francisco's Earth Day Festival offers something for everyone, including music, food, art, and environmental activism.
San Francisco's Earth Day Features Live Music
The festival features live performances by local and national musicians throughout the day, including Zydeco, Psychedelic Rock, and Global music styles. Beyond entertainment, Earth Day San Francisco is a gathering place to promote environmental awareness with dynamic speakers, green non-profits, exhibitors, and sponsors who focus on sustainability.
Visitors can explore the Green Mobility Zone to discover various sustainable transit options like e-bikes and skateboards. In addition to the Activism Zone, Earth Day San Francisco offers a Sustainable Chef Zone, where visitors can learn healthy recipes from local celebrity chefs, sample organic and vegan food, and discover available sustainable options. Visitors can also participate in various workshops, such as building a bike, creating DIY Eco-Action Postcards, and silk-screening Earth Day T-Shirts.
There is something for everyone at San Francisco's Earth Day Festival!
San Francisco's Earth Day Festival is an inclusive event, offering something for everyone to enjoy. As we commemorate the 53rd Anniversary of Earth Day, we're reminded of the importance of raising awareness about outdated systems that encourage dependence on fossil fuels and corporations that put profit before people. Let's come together to celebrate our planet while inspiring each other to take action for its preservation.
Earth Day - Free 2023 Wild and Scenic Film Festival
This event is happening on Earth Day, Saturday April 22, from 1 pm to 3:30.
San Francisco's Earth Day Festival just got even better with the addition of a special Earth Day short film festival presented by San Francisco Recreation and Parks. The film fest showcases an array of entertaining and thought-provoking films on climate change, wildlife, and ecology.
The feature film, "Don't Feed the Coyotes," is a must-see for all nature lovers. The movie features breathtaking shots of San Francisco and takes viewers deep into the complicated lives of urban wildlife.
The program is curated in age-ascending order, so it's kid-friendly and suitable for all ages. Parents can rest assured that even the youngest kids can leave as the concepts get more complicated. While RSVP is encouraged, it's not required, so everyone is welcome to come and enjoy the films.
This film fest is just one of the many exciting events happening at San Francisco's Earth Day Festival, and it's an excellent opportunity to learn more about climate change, wildlife, and ecology. Let's come together to celebrate our planet while inspiring each other to take action for its preservation.
Link to RSVP: http://bit.ly/3M7FvjB
Kickit365 Earth Day Ocean Beach Cleanup
Happy Earth Day! If you're looking for a way to celebrate and give back to the environment, join Kickit365 and the Surfrider Foundation for an Ocean Beach cleanup. Afterward, head to Park Chalet (a favorite spot in my Outer Richmond/Ocean Beach neighborhood) for food and drinks.
The Ocean Beach Fire Pits in San Francisco are where the cleanup will take place. Meet up at Stairwell 17 on Saturday, April 22nd, from 10 am to 11 am. If you arrive early, the Surfrider Foundation will provide some equipment, but they also encourage participants to bring their own gloves, grabbers, or buckets.
Click here to register with Surfrider Foundation cleanup day and sign up for this exciting opportunity to help save the beach. Let's come together to celebrate our planet and take action to preserve it for future generations.
Paper Shredding for a Cleaner World and our City of San Francisco--FREE Event in the Outer Richmond
As we approach Earth Day, it's essential to consider the ways our daily actions can positively affect the environment. One activity that can contribute to greener living is shredding. Shredding papers not only has benefits for confidentiality and security but also has positive effects on the environment.
One significant advantage of shredding paper is the promotion of recycling. Shredded paper can be recycled to create new paper products, reducing the need for raw materials like trees, which can harm the environment. Shredding paper also reduces landfill waste, as shredded paper takes up less space than whole sheets, and can decrease the negative effects of climate change.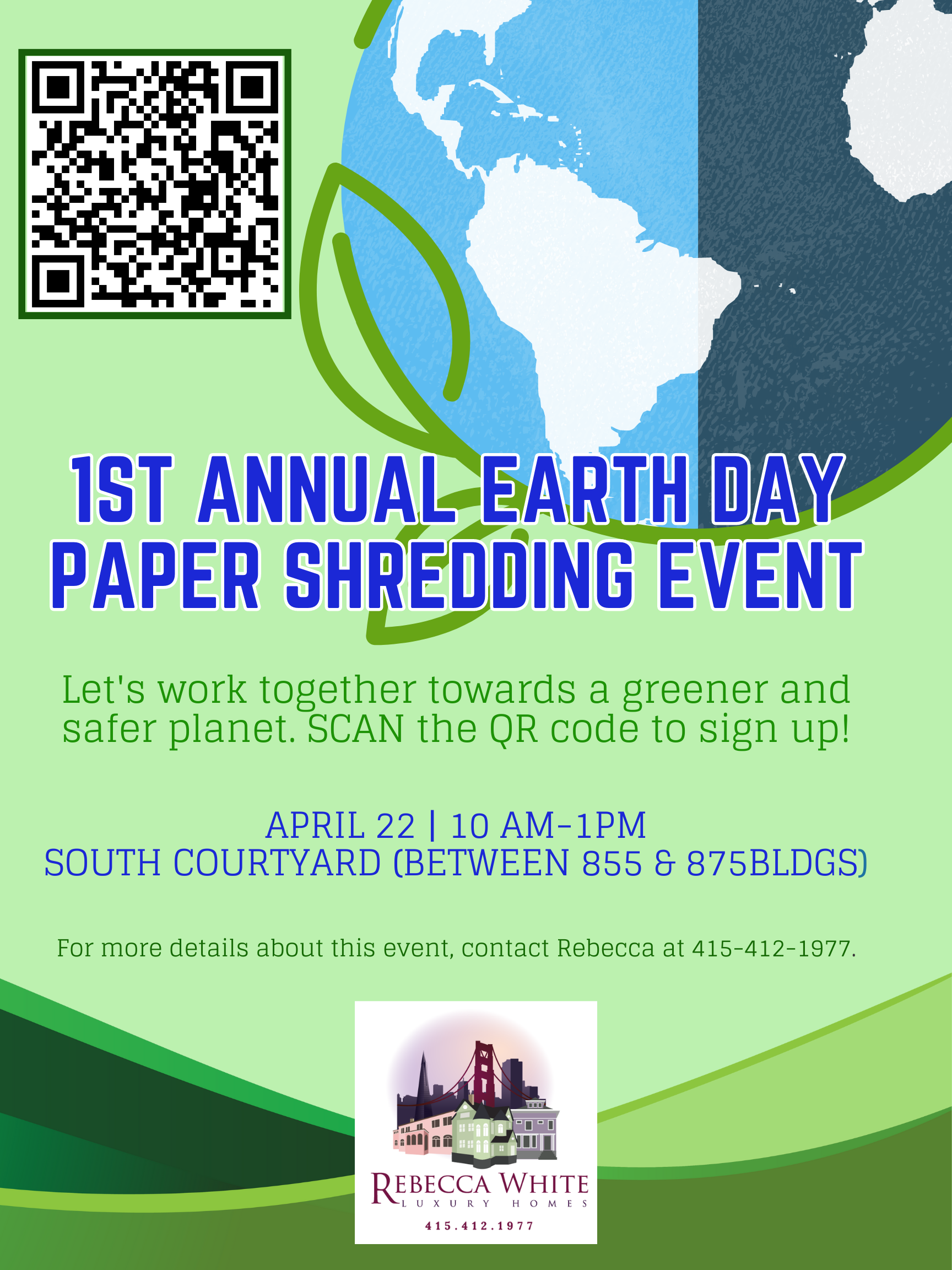 Earth Day Paper-shredding Event in the Outer Richmond
In addition to promoting recycling and reducing landfill waste, shredding paper can also promote energy efficiency. Modern shredding equipment requires less energy for operation and can aid in reducing carbon dioxide emissions. Furthermore, many shredding businesses now use renewable energy sources like wind or solar energy, demonstrating their commitment to sustainable practices.
Shredding paper may seem like a small action, but it can have a significant environmental impact. By encouraging recycling, reducing landfill waste, increasing energy efficiency, and promoting sustainable business practices, we can make strides towards a cleaner world. As we approach Earth Day, let's consider the positive contributions we can make in our daily lives to encourage sustainability in everything we do.
Sign up for a FREE Earth Day paper-shredding event in San Francisco's Outer Richmond District. Click the QR to secure your time slot!
---
For more information on why the Outer Richmond is a wonderful neighborhood to live, watch my video about Top 5 Reasons for Living in the Outer Richmond District, San Francisco. While there, please subscribe to my channel to watch future videos about San Francisco's wonderful neighborhoods!
---
San Francisco's Earth Day has many options for action and participation to make a difference in our City
In conclusion, Earth Day is a time for us to reflect on our relationship with the planet and take action to protect it. San Francisco's Earth Day Festival offers a variety of exciting events and activities that inspire us to make sustainable choices in our daily lives. From attending the short film festival and joining a beach cleanup to exploring sustainable transportation options and sampling delicious organic food, there are many ways we can celebrate our planet and make a positive impact on the environment. Let's all work together to ensure a cleaner, healthier, and more sustainable future for all.