Moving to San Francisco? Top 5 Reasons to Live in Noe Valley (part 1)
Posted by Rebecca White on Friday, July 21, 2023 at 9:45:35 PM
By Rebecca White / July 21, 2023
Comment
Moving to San Francisco? Top 5 Reasons to Live in Noe Valley (part 1)
Overview and Reason #5
In researching this article, starting with my YouTube video about the Top 5 Reasons to Live in Noe Valley wasn't enough. Each reason is only the tip of the iceberg about this wonderful neighborhood. So to give more information to you to discover and explore one of the most popular and beloved neighborhoods in San Francisco, I am going to break this blog down into at least three (no more than five) separate blog posts.
That way, none is too long and I can go more in-depth--especially about the bakeries, cafes, and the "vibe", etc., that are going to be of interest to you as a future homeowner in Noe Valley.
In this blog post, you will learn one of the five reasons why you might want to live in Noe Valley, one of San Francisco's most popular neighborhoods, and make it your home in San Francisco.
Noe Valley is a beautiful and trendy neighborhood with a lot to offer. From charming Victorian homes to world-famous restaurants and bars, Noe Valley has something for everyone.
A little background and history
Named after José de Jesús Noé, the last Mexican mayor of Yerba Buena (the original name of San Francisco), Noé owned what is now called Noe Valley as part of his Rancho San Miguel. In 1854, he sold the land to a Mormon immigrant, John Meirs Horner. Despite the sale of his ranch, Noé's name stuck!
The Enchanting History of Noe Valley: A Name Steeped in Legacy
Noe Valley, a cherished neighborhood in San Francisco, bears a rich history intertwined with the legacy of José de Jesús Noé, the last Mexican mayor of Yerba Buena, which later became San Francisco. This enchanting locale was once part of Noé's vast Rancho San Miguel. In 1854, Noé's ownership of the land transitioned to John Meirs Horner, an enterprising Mormon immigrant. Despite the change in ownership, the neighborhood retained Noé's name, honoring the man whose influence left an indelible mark on the area.
Horner's Addition: Shaping the Streets and Heritage
As John Meirs Horner took the reins of this burgeoning community, he played a significant role in its development. Many of Noe Valley's streets were laid out and named by Horner himself, reflecting his personal connections and memories. The affectionate naming of Elizabeth Street after his wife and Jersey Street after his birth state added a touch of intimacy to the neighborhood's fabric. Interestingly, the city assessor's office still refers to most of Noe Valley as "Horner's Addition" for tax purposes, preserving the memory of its early pioneer.
A Tribute to Faith: Noe Valley's Former Park Street and Temple Street
In a testament to his Mormon faith, John Meirs Horner bestowed special names upon certain streets. Present-day 24th Street was originally known as "Park Street," while 25th Street bore the name "Temple Street." These names served as tributes to his religious beliefs and added a unique dimension to the neighborhood's character.
Today, Noe Valley stands as a vibrant neighborhood with a captivating history that echoes through its streets. Rooted in the legacies of José de Jesús Noé and John Meirs Horner, this enchanting district continues to be a cherished part of San Francisco's past and present.
Reason #5 to Move to Noe Valley: Tech Shuttles
Just imagine, walking out your front door and going a few blocks to a luxurious, private bus that whisks you away to your place of employment. Most people hate commuting and especially driving in Bay Area traffic. The good news is that Noe Valley has Tech Shuttles to high-paying jobs in SIlicon Valley.

All of the major Silicon Valley employers such as Apple, Google, eBay, Facebook, and Yahoo, have shuttle buses that stop in Noe Valley to pick up their employees and transport them in comfort to their places of employment. We semi-affectionately and slightly derisively refer to these young people as "shuttle bus-ers".

There are stops at the south end of Noe Valley on Dolores & 30th and smack dab in the middle at Church & 24th.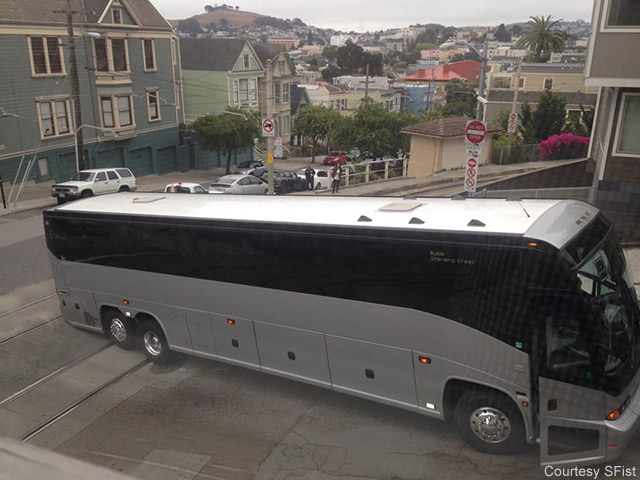 This was pre-COVID of course, yet the access to get out of town to the peninsula is still a great draw of Noe Valley. And now that people are going back to work, many hybridly, the tech shuttles serve an important function in saving gas and time for tech workers.
Conclusion and Next Steps
IF this post piques your interest about living in Noe Valley, please do any or all of the following: